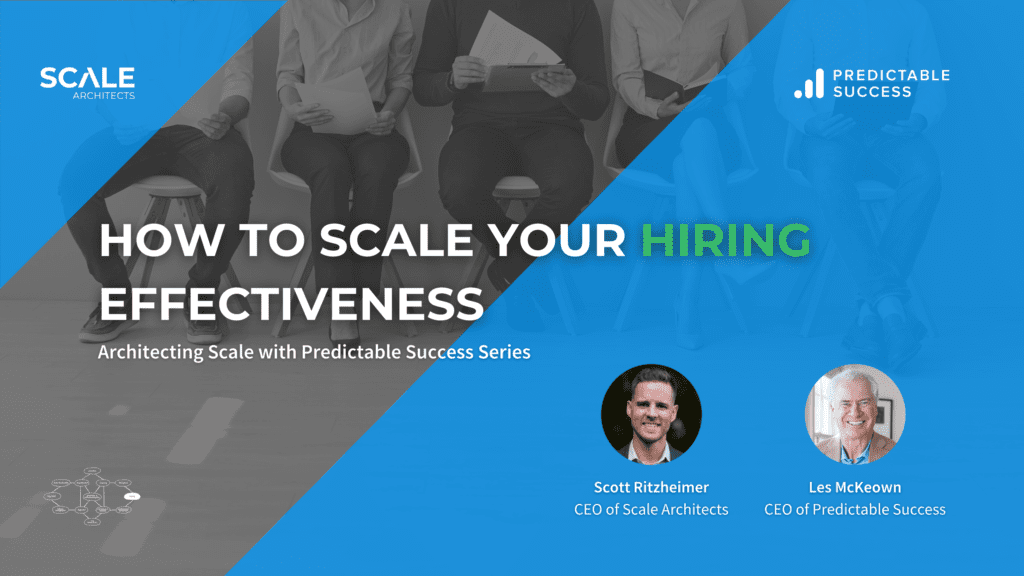 It is harder than ever to hire great people. You don't have to make it any harder on yourself by guessing or making it up as you go. In this session we unpack the five-step hiring process great companies use to hire great people and enjoy Predictable Success!
Event Recording
Discover the five secrets great companies use to hire great people
The economy continues to climb business is booming. But it's got executives everywhere scratching their heads.
There is a nearly universal pressure to find new talent. Whether it is the "Great Resignation" affecting the upper levels of organizations at an unprecedented rate or the Millennial shock and other trials affecting even entry-level positions, I'm almost certain you are struggling to hire right now.
But let's be honest, the problems we are experiencing today with our hiring are only an exaggeration of the symptoms and underlying causes that have been there all along.
Most companies simply do not have a hiring process designed to secure top talent and sustain a culture of innovation and excellence. Beyond the momentary frustration and disruption caused by blank spots on your roster, a lack of intentionality in hiring is one of the fastest ways to lose your competitive edge as an organization.
That's why one of the key differences between great companies and their average competitors is found in how they hire.
Are you hiring like a great company or setting yourself up for average?
Is most of your hiring done as a reaction to an open role, leaving you constantly feeling behind the eight ball?
Do strong new hires cause drag or unwanted pull on the organization or their teams?
Would you describe your hiring as a time-based event rather than an evergreen process?
Do you have high turnover?
Does it take a long time find qualified new hires and get them up to speed?
Do you have a "pick and stick" approach to hiring, finding someone, showing them what to do, and then tossing them in the deep end and hoping it works out?
Do you have constant interdepartmental confusion around hiring (and firing)?
If you answered yes to any of these questions, the dysfunction in your hiring costs you far more than the frustration you are currently experiencing on the surface level.
The good news is, in this webinar, Les McKeown and Scott Ritzheimer are going to show you how to solve each and every one of these problems, and they'll do it all with a single swing of a golf club.
Register today, and you'll leave this 60-minute webinar with several simple steps you can take to dramatically improve the effectiveness of your hiring process.
Architecting Scale With Predictable Success Series
This event is part of the Architecting Scale With Predictable Success Series. In this series, Scott and Les will take you through each essential element of any organization that wants to achieve and sustain scale!
If you want your organization to enjoy Predictable Success, you won't want to miss a single session in this series!