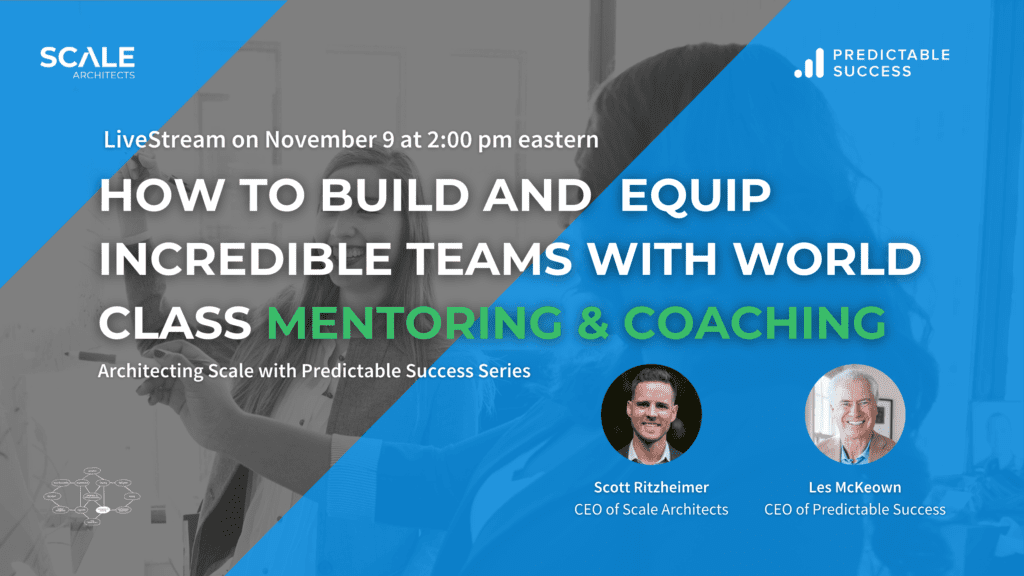 With the constant, rapid, and unrelenting change happening around us every day, it is more necessary than ever to see employee development as a team sport. In this session we'll show you how to create formal and informal mentoring & coaching programs that span departmental, managerial, and generational divides and create the high-capacity teams you need to enjoy Predictable Success for the long haul!
Event Recording
Free Resources
Keynote
Deck
Download all the slides from the How to Build and Equip Incredible Teams with World Class Mentoring & Coaching LiveStream.
Sample Mentor
Application
To help you get off on the right foot, we've created a simple Mentor Application you can use to find the best mentors and coaches within your organization.
Sample Pre-Coaching Summary
We've also put together a helpful form your coachees can use to make the most out of every coaching session.
Learn Five Ways You Can Build and Equip Incredible Teams with World Class Mentoring & Coaching
What if the fastest way to develop rising talent within your organization is also the most affordable?
What if it was also a critical factor in pushing back the lethargy and inertia that caused once great organizations to lose their way?
What if hidden strategy also created greater fulfillment in and engagement from your best people?
How would greater creativity and initiative, faster training, and fewer mistakes impact your bottom line?
Would you believe that you don't have to spend an extra dime to do it?
And what would happen if you could altogether remove the generational and divisional gaps (or chasms) within your organization?
Does it sound too good to be true?
It's not!
You can achieve all of this and more through mentoring and coaching.
And here's the good news.
You don't have to look outside your organization for a coach. You don't have to pay anyone to come in and help. You already have an entire pool of mentors and coaches to choose from within your organization. And it's a win for everyone.
For the mentor: They get a chance to pour into someone else's life. Few endeavors in life are as fulfilling as making someone else's life better, allowing them to learn from your experiences and avoid making the same mistakes you made. They also get the added confidence of knowing you trust them to mentor others.
For the mentee: They get a chance to learn from someone who has been there and done that, someone they admire, someone who isn't assessing them on their performance but is deeply committed to their improvement. They get to learn faster and avoid some of the more painful learning experiences life and work offer.
For you: You get a more engaged and inspired mentor and mentee. You get a more effective organization. You get more creative problem-solving, greater commitment, and higher collaboration.
And you, right there in your company with all its strengths and flaws, can create a truly world-class mentoring & coaching program. It's not all that difficult once you understand what steps you need to take.
So what do you do?
In this LiveStream event, we will show you five ways to unlock the latent potential currently lying untouched within your organization. And here's the best part, if you implement even just two or three of these strategies, you'll start to see remarkable changes in the culture, creativity, and enthusiasm of your teams. It's truly a win-win situation.
Here is a sneak peek at the five ways you can create a world-class mentoring & coaching program within your company that benefits everyone involved and secures your continued success well into the future.
Creating a high-quality orientation experience through relationships
Building an internal mentoring culture that defines who you are and how you work as an organization
Leveraging peer mentoring to create greater growth for everyone involved
Relieve pressure and improve creativity through coaching outside the line of command
Break down the "us vs. them" barrier that creeps in and surrounds senior leadership by involving them in the process as well.
Together, these five strategies will allow you to create a world-class mentoring and coaching program–one that will reinvigorate your organization and restore and retain your competitive edge and ensure that you'll continue to innovate and lead the market well into the future!
Join us on November 9th for How to Build and Equip Incredible Teams with World Class Mentoring & Coaching.
How We Can Help!
Do-It-Yourself
You can architect scale yourself using our expansive suite of training courses and live events that are designed to help you reach Predictable Success!
Coaching & Consulting
You can bring in a knowledgeable Scale Architect we've personally trained to help coach you and your team into Predictable Success!
Train the Trainer
We can train one or more of your current leaders to become a Scale Architect within your organization to help you reach Predictable Success!