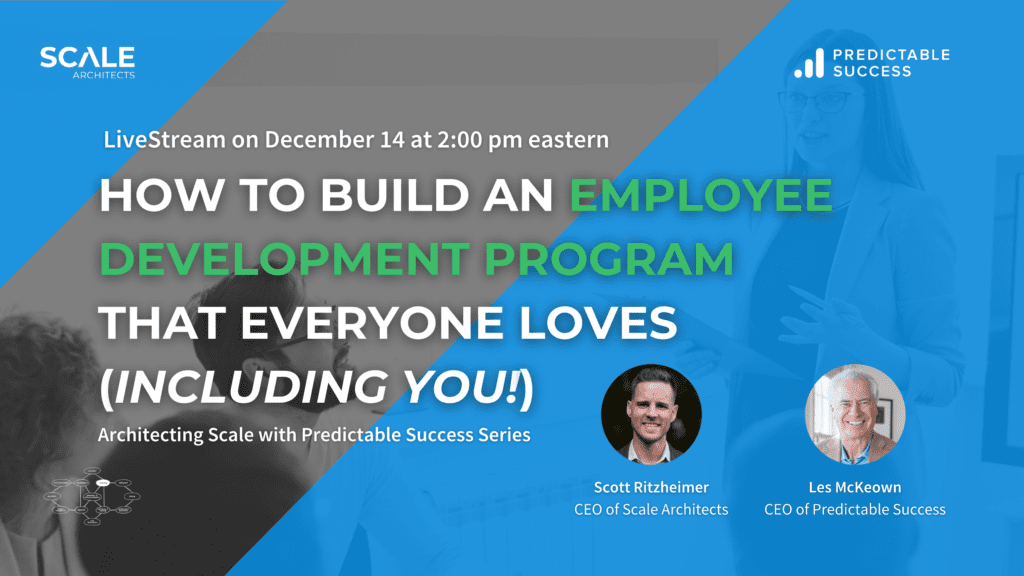 Challenge, development, learning, and growth are words consistently used to describe a rewarding career. Yet, they are rarely used to describe the lackluster training programs that should be the primary source of challenge and growth in a healthy organization. In this session, we'll teach you how to build a training program that employees look forward to and that ensure Predictable Success for you and your organization!
Event Recording
Free Resources
Keynote
Deck
Download all the slides from the How To Build A Employee Development Program That Everyone Loves LiveStream.
Leadership Development Program
We've created a four-track leadership development that you can take and use as a starting point for your organization!
Leadership Skill
Mastery Chart
Different levels of leadership require different levels of leadership skill, and we've mapped it all out for you.
How To Build A Employee Development Program That Everyone Loves (including you!)
How quickly can you get your new employee from hired to absolutely crushing it?
How many of your long-time employees are still highly engaged and performing at their peak?
How long do your top performers stay with your company? How many are about to leave?
If you have a problem in one or more of these areas (most of us do) or if you don't know if you have a problem or not, then there is one tool you can use to transform the performance of your current employees (and your future employees too).
Corporate training.
Now that is a topic that is sure to create hours of white-knuckled page-turning excitement, right?
The sad truth is that most corporate training is just plain terrible. You stick the word corporate on the front of anything, and most people would rather stick the sharp end of a paper clip into their eye than hear whatever you have to say next. And corporate training is the epitome.
At the mere mention of the phrase, I'm sure your mind is filled with mindless PowerPoints, endless compliance training, and more than one strangely true sitcom episode.
But let me relieve the tension and say that's not corporate training.
Corporate training, when done right, can do wonders for the vitalization of re-vitalization. Training (let's drop the word corporate from now on and lower all our stress levels) is one of the essential imperatives for scaling an organization and sustaining a high degree of success.
In this session, we will look at what training should be as I show you the five hallmarks of an effective training program.
There is no tool as effective as training for boosting long-term performance across an organization.
An effective training program will onboard new employees faster, increase the productivity baseline across the organization, encourage new and veteran employees to challenge the status quo, embed visionary creativity deep in the organization's ethos, and foster rapid information sharing up and down and left and right
throughout the org chart.
Here's a sneak peek at what you will learn
This LiveStream event will show you five ways to unlock the latent potential currently lying untouched within your organization. And here's the best part, if you implement even just two or three of these strategies, you'll start to see remarkable changes in the culture, creativity, and enthusiasm of your teams. It's truly a win-win situation.
Here is a sneak peek at the five ways you can build an employee development program that everyone loves.
How to score several easy & early wins with core curriculum on core activities
Why developmentally based programs beat punitive programs every time
How to beat back boredom by creating a Socratic training program
How to unlock innovation by explaining & 'Why' as well as'How'
Adding fuel to the flames of progress by involving senior leadership
Together, these five strategies will allow you to create a training program that everyone loves, including you!