In this revealing episode, Dr. Victor Manzo, Founder & CEO of Empower Your Reality, shares how he made more money while working half as long by managing this one important resource.
You'll learn how to do more of the work you love, less of the work you don't love and maximize the time value of your money.
Episode Transcript
Scott Ritzheimer
Hello, hello and welcome welcome once again to the secrets of the high demand coach and I am here with yet another high demand coach and that is Dr. Vic Manzo. Dr. Vic is a business mindset coach. He's a certified pediatric chiropractor, a three times author podcaster. And Speaker. I don't know if you could actually do any more than that. But I'm sure that Dr. Vic will show us how about before becoming a business and mindset coach, Dr. Vic had been a practicing chiropractor for 11 years, where after a series of events, which I hope to unpack here, he took a 40% financial hit in his business and then following the principles of doing less, in just over a year, his business was back to its financial peak, but this time, he was working 50% Less, he had more time to be with his family do the things that he loves to do, and much more. Dr. Vic, so excited to have you here. I can't wait to dive into this story because it's a powerful one. From what little I knew already. But before we kind of jump into all the work you do, I'd love to do that. I'd love to just hear the story that that led to this massive transformation in your chiropractic business and then for you to become a business and mindset coach.
Dr. Victor Manzo
I love it. Well, thanks for having me on. And yeah, this this journey was you know, I always tell people, I never really had a goal or vision to be a chiropractor. It just happened at the age of 19 with some health issues that just slowly over time accumulated over a year. And then I decided to long story short go to a chiropractor and my life was changed. But I come from a family of blue collar. And I saw a lot of scarcity with financials and things along that nature. And it was a community we grew up in in that way. And it was one of those things where when I became a chiropractor, I was like, I'm not going to experience that. Like I saw growing up the things I don't want to experience. Until my head I hired a coach six months before I was out of chiropractic school. I was studying all throughout chiropractic school, the best coaches that could pass on my coaches, chiropractors, I couldn't get my to shadow to learn from pick their brain. I wanted to know this business even though I had a business background from from undergrad, I was like I want to know business in chiropractic and how to be successful how to make an impact that come out of chiropractic school. I go blazing with it. I start studying with business, you know business experts and listening all the self help personal development. I'm listening to talent doing everything I'm told, as I was reading 80 to 120 books a year because they said CEOs successful CEOs read 60 to 80. So I'm like fine 80 to 120. I peaked that 132 I was like I'm going to you know grind hustle, okay, fine. I come from physical labor. So long days, long hours, it's not about how much hours you're gonna put in the day. It's we stopped when the job's done, or when we can't work anymore. And we'll come back the next day. So I did all that I did all the things I was supposed to but you still hear in today's world and business elements. Five years in, I hit my financial peak thumbs up. Problem was, I was burned out every four to six months. I was unsatisfied and unfulfilled when I got there. And it was very puzzling and disheartening for me. Because I'm very passionate about chiropractic. I love chiropractic has saved my life in many ways. And it's just an undervalued under a misunderstood profession. And but yet, I couldn't understand how burnout kept coming up. And so I took a really look at my practice, I did some soul seeking, I talked to my wife, who was she was the operation manager or operations and she CEO and CMO of my business chief marketing officer. And so long story short though, I looked at it and said, I don't know if I want to continue because if this is the uphill battle of how it should be, I'm not into that like this is it there you my background was in energy healing and energy medicine, I learned that it was going through and that its counterpart school, but through it. And so principles of spirituality, quantum physics, consciousness. So I was like, this doesn't align from that stuff. And I'm like, You know what, I'm going to forget everything I was told, forget the business advice, forget all this stuff, I'm going to go full in on what I learned before, and understanding how universal laws, how to play with them, how to utilize them. I'm going to get into spirituality or quantum physics and learn how to live in the quantum world. And I'm like, we're going to change things around. Because what I realized, here's one mistake I had made back then is all the successful people I was listening to. I just became a prototype of them. I wasn't me. And that's a big mistake a lot of people make, especially since I've been in the coaching realm now for last four years. I see it so often. And I'm like, No, we need you to be you. Not a byproduct of this or the next Tony Robbins. I don't want you to be any of that, like you should be you. That's what's going to make you successful and fulfilled. And so we changed the practice around because we realize it wasn't the chiropractic office that we really wanted. I had a coach who was like just accept people where they are, you know, don't you know, it's not about maximizing their health as to how you see it. It's where they are meet them there. That's a great business model. But if For someone like me who has like a vision, and you want to be able to achieve that, and this is what I want to have, it wasn't gonna work. So this is where we took that 40% hit. And it was over six, eight months, where we started referring patients who didn't align with the practice, we were going out. Who would do that after hitting your financial peak? Well, I don't know, I wouldn't recommend it to a client, but I did. But then from there, we applied the principles. And that's where things changed. I started out took a 50% reduction in work, working at the time, on budget about that was the overall goal. But long story short, we were able to do that still end up making the same amount of money we're making. And at that point in my life, I said, You know what entrepreneurs need to know this. This has to be taught. I know too many entrepreneurs burned out unfulfilled. Their life is being Yeah, they're successful in business, but their marriage is failing. They're now don't have a great relationship with their kids. Their health is horrible. And I was like, I know too much in health. But I'm like, I know. I've experienced it. I've applied this. And I know this stuff works. And so about a year later, started a book started a podcast, six months ended December 2018, I started doing coaching, and I did it as a side hustle. And then last year 2021, my wife and I moved from Chicago to Knoxville. And that's where I kind of let go of the chiropractic side. And I was like, you know, I'm gonna go full in on this coaching thing. I've seen the little, little bit. Again, it was a side hustle, I was only taking on like five clients. But I was like, I've seen the growth of what, who I have worked with, especially during COVID. And I was like, I want to get into this full time because I can help more people and I can serve more of my vision of what I want to do for the world.
Scott Ritzheimer
Yeah, fantastic. So I'd love to dive into just that transformation in particular, because it's a big one. And it's one that I think, you know, we can all learn from so you're working your tail off long days, hard hours, and you know, I've worked in and around the chiropractic profession enough that it's your, to an extent trading dollars for hours, right? If you want more money, you work more, there's some scale that can come if you start bringing in associates or renting out spaces, whatever, but especially in those early years, it's it's how, how much do you want to make, that's how much you got to work. And so in a in a profession, and lots of professions are like this business coaches are like this, you know, lots of healthcare practitioners are stuck in this place of trading time for dollars. Right. And, and, you know, to try and achieve what so many people have defined as success for them. They're, they're killing themselves in the process. So you recognize that's where I'm at, don't want to do this. Talk to us a little bit about first. I would imagine most folks understand the mechanics, if you do less work, you make less money. But talk to us a little bit about doing less work and making the same or more money. What did that actually look like?
Dr. Victor Manzo
Yeah, so one of the things is there's a law called the Law of the least effort, which means what's the least amount of work to get the greatest game possible? That doesn't mean that the more work you do the more game there is a max to that, and that exists in all elements of life. And so that law is the one I remember it. And I was like, so how do I achieve this, I kept asking myself, so I looked at my wife, when we first started to make this change, I went from 28 hours to 18 hours. So we're gonna cut the hours down. And let's just go there first at and that means 18 hours, 18 hours of office hours, I'm in the office adjusting. And so what would happen? Well, we took a little extra hit from that. But then all of a sudden, six months later, a numbers group. And I was like, Okay, I like that. And we actually broke a record. And I was like, Okay, great. Next year comes around, I look and I go, let's go to 14 and a half. Now, why did I choose 14 and a half? Again, law of least effort, I was looking at my schedule, I'm saying, what's the max amount of time I need to be with a patient not to just get in and get out, it's gonna be I can serve them at the level of well, how I like to serve chiropractic, because don't get me wrong, and adjustment takes a minute. So Okay, one minute, I could see 60 patients an hour. That's not how I was seeing I was like, I want to serve I want to be able to connect with I wanna hear what's going on, what's the progress from last time, especially if I'm doing holistic coaching, or emotional stuff or anything along those lines, I want to make sure I can serve them in a couple, three to five minutes, and still be able to see the numbers I see and still make the income that I want to make. And so all of a sudden, you know, what happens with that as we get so caught up into like, you know, again, we are trading hours for time. It's just what that's what chiropractors do unless you have associates, unless you're scaling and that kind of thing. You have to trade your hours for time. But what I looked at was a different metric. So it's not time management, it's energy management. How can I be more energetically present and put my energy into something in a shorter amount of time and still get a greater gain or probably even better? And when we went down the 14 and a half hours we took another 10 to 15% Hit it just happens in our profession. Any slight changes in the practice patients just don't like it. So but here's the cool thing. Six months later, why six months? I still don't know. It's always six months, it hits like it's literally right now almost it's almost right on the dot six months. We break a record and that's patient volume. How much am I seeing per week and When we got to that point, we look back and I'm like, Okay, we have a formula here and how that works. And again, it comes back down to, how much can I give my 100%? You've heard this before present time consciousness. It's nothing new and fancy. But how can I do that? For me, that works for me, that was the key for me, because I did 18. And that was great. But I still was like, and we had a little break here, I had a gap here. And my energy goes down quick when we have that. And I was like, How can I shorten up the gaps, and be able to be able to still see the amount of patients or even be able to take on more, because I measured out how much I can see. And I was like, okay, we can still grow the practice another 30 40%, I'll be fine. But at the same token, be 100% present in the moment with my patients serving them. And when we got to that level, and did that, and we get we were very efficient with that, not only the patient outcomes get better. But the connection with patients referral started coming in even more. I mean, the whole thing changes my team. And my connection with my team was different. Because we only had a short amount of time, I worked an hour and a half in the morning, and I worked three hours in the afternoon. So when I got we got in, it was game time, there was no time for fluff, no time, for BS, no time for nothing. It's like we get into the office, it's game time. Let's serve these patients. Let's do let's give them that experience that we focus on our vision and our values. And then hey, we're done. Wrap up anything we do follow up. Let me see in the afternoon. We'll continue that on. And since we're so centered and focused like that, it was a game changer.
Scott Ritzheimer
That's amazing. So I want to dial in, you talked about fluff and BS, right. And one of the challenges that I see for folks on the front end of this type of shift, and there's different ways of going about it. But this idea of working less and achieving more, right? And at the front end of it, there's always like, that's not possible, right? It's just you know, as soon as I cut it out, all we see is the draw, right? But on the backside of that right, having come up the other side of it having a clips your your performance ahead of time, looking backwards, what are the things even just really practically in the world of chiropractic? And then we can zoom out a little bit, but what were the things that you were doing, when you are less efficient that you found yourself not doing either at all, or significantly less later on?
Dr. Victor Manzo
Yeah, one of the things I wasn't efficient, I just wasn't being as focused, like I was focused with my work. But I knew there was times that I had like gaps in between things. So I knew I wasn't pressured for me. Don't ask me why maybe it's my I think it's, well, I know why it's more my upbringing, I do very well, under pressure. When I know I have to serve, like we have a new patient coming in. And there's a certain amount of time I have with that patient. That's it. That's my, that's my time, I'm dedicated. Now, obviously, I don't hold to that. Because if there's something like something else coming up in that conversation, I need to address that or even with a patient, adjusting in the office, like if they're I always say I'm never gonna rush you through your adjustment. If you need time, when we need to talk about something, we're going to talk about it. And if someone gets upset that's on that, hey, I had an I had some I had to take care of like, I'm here, I'm serving you now. But it was it was that that level of but that pressure, always knowing that I could not be anything less than my A game. To me, I felt that was the thing that I wasn't doing as well before. And when we shortened it down even the 14 and a half hours, I had to be amazing. I mean, literally like people like my wife worked in the office, they they're going like you guys probably see you guys see each other all the time. I'm like, I get in here. And I don't see her until we're walking out leaving. And they're like, seriously, I'm like you and some of my patients, I got to know a lot. And I'd be like, you see how it is in the office. When I get in here. They're like, No, you guys are very busy when you're in here. And I'm like, Well, you know, yeah, we're just we have our systems in place. But I had, we all had to be on our a game. And I think that's what leveled up the whole experience. And when we got used to that and got adjusted after the first few months, that's where all of a sudden that starts to show because we're putting the right amount of energy into things. We're being hyper focused, and when you don't allow distractions that come into your life in any facet of life, that's when you achieve what you want.
Scott Ritzheimer
Yeah, I think it's might be Parkinson's Law, but work expands to fill whatever space allotted. So no matter how much time you give it, that's how much time it's going to take and then some, you know, just you're just not going to quite get done. So now, one more thing on the back end of this and then I'd love to hear how this is translating for your clients. But it seems like an obvious question, but is it worth it? And why?
Dr. Victor Manzo
To work less and make more? Yeah, yeah, who wants you know, especially if we're trading time for money like that's this is one of the one of the things for me psychologically I had a look at like, we always look at sales we always look at profits, you know, and know all these different things when it comes to business numbers. And what changed my psychology was is how much do I make per hour? And what's the number I want to make? I totally got away from all Do I have a seven figure business or do I have this or do I have it? I did. I didn't care about any of that anymore. And I said forget all that those numbers. If I'm trading time for my money, how much time do I how much do I want to be paid my worth? per hour. And when you get crystal clear with that, it's worth it. It's great. Like there's a book, I mean, I'm not gonna reinvent the wheel, Tim Ferriss did a great job in the four hour workweek, he talks all about it, you can make a half a million dollars a year, you can make $150,000 a year, but guy works only 10 hours a week where someone works 50 hours a week, one gets to travel with their family and do all these other things, while the other one, maybe once a year, they get to do that. It all comes back to again, what is it that you choose to experience instead of the conditioning? Because we get caught up in so many things I did. I wanted to have the seven figure practice. I almost got there. I was very close to it. But then I saw the cost and the price. And I said forget this. Are they worth it? And I said, Okay, let them relax. Okay, what do we want to make per hour working in the office? What's the bare minimum? And then we looked and said, Here's the baseline. And once we figure that out, you had we had crystal clarity now the what mattered to us? Not that oh, yeah, there's another character that does double I mean, I don't care. Good for them. I like care about as me and my life. And I think that's so much more, because you get really about what's the principles that matter most in your life and your business?
Scott Ritzheimer
Yeah, I just, I absolutely couldn't agree more. And I'm glad you went there. Because a lot of work with a lot of coaches, in addition to my client load, and you know, the biggest thing that I'm teaching them is it's your dollars per hour, right. And then you choose how much you want to work after that. But you've got to get the dollars per hour figured out first, because there's so many slack habits, and then quite honestly, just laziness. Right where, where it just, it doesn't have to change, right. And so where we get cut, caught and just spinning our wheels and exhausted is we're doing a whole bunch of stuff that's not creating the impact that we want. Right. And in doing so not only does it not only do our clients suffer, because they're not getting the impact in the results that we really could be producing for them. But we suffer individually because it puts this massive, massive pressure on our ability to make that higher dollar per hour figure. And I love setting a target for it. I think that's also a just huge, huge step to take. So let's translate this out because not everyone listening to chiropractors. So at the risk of losing a couple of people, we're talking about principles that matter way, way outside of the chiropractic world. So talk to us a little bit about how this is showing up for your clients, particularly those if you've chosen to go this route that are not working in the chiropractic.
Dr. Victor Manzo
Yeah, half of my clients don't work in the chiropractic space. So it's one of those things where I served over 22 professions. So it's one of those things that the principles, a lot of come over, right, I shared a couple already one of them is focus, right? You have to have an intense focus when you're doing something. And that's it energy management. It's not time management. So when I have clients that are like, like, let's have an insurance agent guy, and he's like, I gotta figure out my schedule, and how to map these things out. No, just look at what makes the biggest money for you focus there, what's the things that are working? Well, you do KPIs and all these other things. That's backend stuff that a lot of people use, but I'm like, let's figure out your recipe. And then let's put the energy there. And then the little nuances. Yeah, we'll make that like 20% of your time, and your energy that you're gonna put towards, but let's put that there, because that's what's working for you. But then that's also what's going to serve your business in your lifetime. Plus, on the st. It's not all about money, though. What do you love doing to like, What's What do you enjoy the most out of all the things that may come with? And those are kind of the things that we look at. And what they realize is they go, Wow, I'm actually not only just I thought I was spending an hour and a half, two hours on something that I had to do, and now it's only taking me a half hour. And I'm like, isn't that amazing? And we didn't even talk about time management or technical skills or how to do this or that he's like, yeah, it's this is this is this is different for me. And I'm like, Cool, let's keep going down that route. But it comes back to energy management, how much intense focus you have to do back end and front end, right. You know, if you're on the business or in the business, depending on what you do. There's all these principles a lie with if you're a coach, it's the same thing. Well, what are you doing the gather leads and lead generation and all those kinds of things? How are you metrics? And how much time are you spending each day on that? I mean, I know I used to spend hours in the beginning of what I did. And I've figured out I'm like, Hold on, I got caught up in the trap for six months later, I'm going, why am I doing it that way, I'm wasting so much time on this. I was like, let me simplify this. I don't have to do this. This way. I can cut this down here. I only focus on these days then rather than every day. And in the business coaching where they don't recommend that every day you got to be grinding out for leads every day. And I'm like, I don't care like I that stresses me out. Yes, it's probably the best practice. But for me as an individual, like, I'm not going to do that. I'm going to choose a couple of days that work well, based on my schedule that fits me. And it's just I'm going to do the work. Now some people say, well, they had that a workout. It didn't work out. But and why? Because it was authentic to me. Yeah. And that's a principle. Yeah, it's the same message I was sharing in the chiropractic. It's the same thing in there. I tell my clients because they'll tell me, I have clients that are very overt, you know, high achievers, and they'd be like, why not? I got to do this, and I gotta do this, and I gotta do that. And I get that I go, Who told you you had to do all this? Like, what you're telling me is great. It's great business advice. It's great things that the loud business people tell you. But let's take a step back. What matters most to you. What do you care about doing? Because if you're just because then what happens is, and this happens to a lot of entrepreneurs, I've worked with it happen And to me, I see it all often, and you probably see it yourself. They have a business, but they're actually employed to the employee to the business like they like I have to do this, I have to do that you don't wait, the whole purpose of being an entrepreneur is you choose what you want to do you choose that experience in that journey of what lights you up, and then you know you if you have the financial means, then delegate the rest. But if you don't, then there's ways to do that, from a mindset perspective, to still be like, Yeah, I do these little nuances. But it's not bad, because it allows me to do more of this later down the road or something like that.
Scott Ritzheimer
Yeah, it's so good. It's an interesting thing, because I think I would venture out to say this is true. The biggest challenge facing entrepreneurs today is the over abundance of well meaning, but ill suited advice. I don't think there's ever like, I don't think there's ever been a time when there's been so much access to so much great information. But so little insight in how and when to apply.
Dr. Victor Manzo
I couldn't agree with you more. I mean, I saw that in the chiropractic profession, just because you know, like how to get new patients, right, chiropractors, I've been in this for 15 years, and it's the same message over I need new patients, I need new patients. And I'm always like, if you've been in practice for 10 to 12 years, you don't need new patients. If you still do, you're doing something wrong. And I learned that in my prefer, I learned that in my first five years when I was like, I still call even though I had the growth. I was like, Why do I feel like I still need new patients or something wrong with this, and I changed my metrics around also. And I'm like, I'm just gonna focus their retention is what you need. And I started to put my energy there. And all of a sudden, I'm like, Yeah, we get a little bit of I don't even brag, I just get like 1010 new patients a month, eight to 10. And in the chiropractic profession, that's not bragging rights at all. But I was looking go, I never had a down year and I continued growing. I read it that's working less, right, working smarter, and so forth. But yeah, in the entrepreneurial it is, I mean, even I still I look at things and I'm like this is so like, it's the easiest thing in the world, you can have access to anything you want, right? Social media marketing, organic marketing, what Instagram marketing, how you have to do it there versus Facebook market versus Tik Tok versus LinkedIn versus that versus Paisley. There is so much out there. But it comes back to the same message I share with my clients every single day. And that is what do you enjoy? Like, for example, I love podcasting. I, it's easy. For me, it's natural for me, I love to talk and even being on podcasts or having my own. That's just my way of marketing. And I just go that route, because it's just what's fun for me now, because now podcasts are the Kotla you see podcasts are growing like crazy now. And I hear my clients were like, Hey, Doc, can you teach us how to do podcasts? Nikiti I want to get into it. I'm like, well hold up before you even get into it. Because you heard somebody say they it was lucrative for them. Let's take a step back. And let's really see if that's meant for you. And then half the time, they don't want to do it. Like Forget it. This wasn't meant for me. And so it's getting crystal clear on what you enjoy. You know, if it's content creating, like, you know, I don't know, carousels on Instagram or something like that, or you know, doing little short videos and you love that, then do that. If you're like kind of like me likes to talk a little bit more. And I try to find fit things in 60 seconds. And I'm like, I'm not even doing a good job with this. But it people like it. But I'm like this, this is not me. But I'm doing it just you know, I snip up things. So it's not like you know, doing it in that way. But yeah, you got to find what works for you, because there's just way too much out there. And all of it works. It's kind of like chiropractic. There's over 300 techniques in chiropractic. All of it works, though. So I tell chiropractors, you want to you know, especially new students, I'm like, Just choose what you like, but not as what resonates with you.
Scott Ritzheimer
Yeah. Yeah. So true. All right. So question for you here. And that is, what's the biggest secret that you wish wasn't a secret at all? What's that one thing that you wish everybody listening today knew?
Dr. Victor Manzo
You know this question, I love this question a lot. And it's one of those things where we live in the today's society, we give our power away so much and you realize that you don't need anything. Now, don't get me wrong. I'm a business coach. There are systems and things and strategies don't I totally get understand that concept and the importance of it. But 97% of the time when I work with clients, I don't have to do anything. We don't have to add anything new. Like last year in all my chiropractors that I work with broke records. 94% of my clients broke records last year financially. Now, I'm not bragging upon that. It's just again, where's the focus? Where's the energy, we're putting things that and that comes back to looking at, okay, you don't have let's focus on where your mindset is to focus on we do it, you're skillful, you're intelligent, you've been learning all these years. Let's just take what you have first, and let's take life experiences of what you've had. Because that's your bread and butter. You have already everything you need. And if you start to trust that a little bit more and realize that you're actually competitive advantage is actually your past experiences. It's a game changer. But a lot of us don't think that or we're not taught that we're taught we have to go outside or we follow the next business guru person, whoever that is coming up and it's like all they're the ones that whatever they're sharing that the answer instead is usually most time you don't really need I mean very little do I mean I do talk business with my clients but I It's one of those things where a lot of the times it's working on what they already have.
Scott Ritzheimer
So good. All right, so we've kind of followed your story of kind of being the CEO, if you will, chiropractor so we wouldn't necessarily call yourself CEO, but you're a CEO of your company to now moving to helping other CEOs of their company, but I'm gonna actually have you step back into the CEO seat for me for a minute, take off your coach hat and talk to us a little bit about what you think the next big challenges you're gonna have to overcome at this stage of growth for your you and your business.
Dr. Victor Manzo
As a CEO of like, going back into my Chiro days?
Scott Ritzheimer
No, for today. Your business today?
Dr. Victor Manzo
It I think one of the challenges I face is is is that's going to be if I'm overcoming is, my message is not mainstream. My message is not the status quo. You know, when I talk quantum and living in quantum we live in the business world is all about Newtonian physics and doing right grind hustle mentality, you know, it's all about action out equates output effort, more effort, more hard work, equals more success. That's the formula in here, I'm telling you, that's not true. That is true. But there's a whole another world that you can tap into. And so when I first started doing this, when I went full time into the coaching, I was going, I'm talking to business owners, and I'm going, Yeah, you don't, you don't have to you can you can have success effortlessly. And they're like, what kind of snake oil? Are you selling me. And so I was like, Okay, I gotta cultivate this message to be a little different. But I'm still saying you can have success effortlessly. That's one of the challenges I've overcome, and I've gotten my messaging down. But to take it to that next level, that's something that, you know, teaching people that they do, then they put more energy into where their mindset is, where they're when I say energy, I mean, they're conscious of our frequency or weather, where they're putting their focus, emotions, and what emotions are allowing to show up and what thoughts they choose to focus on, when you really control that you control your future. And when you do that, it's letting go right. Because our mind, especially in business, we think we have to control everything. So it's like, what's the formula? What's the system? What's that? That's good, your brain, your brain likes that because it's like, oh, this is exciting. But it's even more exciting when you say, let go of all that get into the vibe. And when you focus there, then all of a sudden, this is all based on quantum physics, things will attract to you what you need it what system is designed just for you. So it's just a different way of doing business. And it's one of the most polarizing I've experienced, because it's been interesting in the first like I said, the first six months of doing this full time, I was like, Alright, these people are this is some interesting things when people say, and then I was like, Okay, I'm just gonna bring more of the quantum into the picture, to really, really hammer that down, and it's starting to make a change, but to let go and trust and in trust the process is very hard, especially in the business world.
Scott Ritzheimer
Yeah, sure is. It sure is. Well, Dr. Vic, thank you so much for being on the show today. It was just an absolute pleasure having you here such a fun conversation. For everyone listening your time and attention means the absolute world to us. Thanks for being here. I hope this conversation was as helpful for you as it was for me, and I cannot wait to see you next time. Take care.
Contact Dr. Victor Manzo
Dr. Vic is a Business Mindset Coach, Certified Pediatric Chiropractor, 3x Author, Podcaster, and Speaker. Before being a Business and Mindset Coach, Dr. Vic has been a practicing Chiropractor for 11 years where After taking a 40% financial hit, he followed the principles of doing less. In just over a year, Dr. Vic's business was back at its financial peak but this time, he was working 50% less. He had more time with his family, the things he loves to do, and much more.
Want to learn more about Vic's work at Empower Your Reality? Check out his website at https://www.empoweryourreality.com.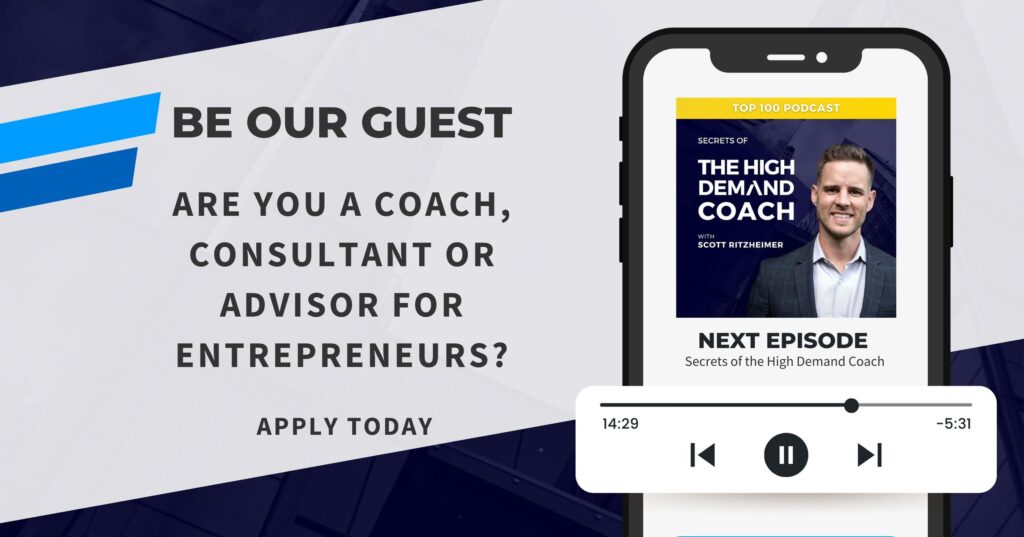 Podcast Booking Status: Open
We are looking for podcast guests, and we want to share your story.
Are you a coach, consultant, or advisor for entrepreneurial organizations? If so, let's do a great show together – and we can promote you to our audience on all our social media channels, website, and email list.

Guest requirements:
As a coach, you should be experiencing some very good momentum AND be grossing $100K or more annually. We'll be talking about how you help your clients achieve extraordinary results.
Consider yourself as equally people and results-oriented in your mission.
High-authority expert management and independent coaches who work with founder-led entrepreneurial organizations of 40 or more employees. We also encourage guests that are operations/strategy and culture consultants, advisors, and leadership coaches to be guests (no specialties in marketing, branding, sales, or IT, please
Please, no new coaches (under 3 years), published authors, non-independent coaches, or non-business coaches/consultants.