In this highly personalized episode, Tony Leonard, a career coach for creative professionals shares how he developed over the years a coaching model for helping individuals enjoy a more fulfilling career.
You'll discover how to navigate the most challenging times in your career, whether it's time to leave or double down and press forward, and the one most important thing you need to survive the early start up stages for your new business.
Episode Transcript
Scott Ritzheimer
Hello, hello and welcome welcome once again to the secrets of the high demand coach and I am here with yet another high demand coach. And that is the one and only Tony Leonard. After working for six years at UC Berkeley as a PhD student advisor, Tony left to work at a nonprofit as a college and career coach for first generation undergrads. He opened his own coaching practice in 2019, and has worked with clients from ages 25 to 65. He helps marketing professionals, opera directors, small business owners, executive, nonprofit directors, data scientists, financial professionals, UX researchers, I mean, the list goes on and on and on. It's amazing the work that's Tony has done, but what he does, he helps folks to leave bad jobs, land good jobs, and get paid well doing it. So Tony, thanks for coming on the show. I'm so glad to have you here today. I wonder if before we jump into the work that you do with your clients and and how you make their lives better, I'd love to just pause for a moment and and this story that you kind of allude to in your your bio here, tell us a little bit about what you were doing before you became a coach and why you decided to make the leap to doing coaching full time.
Tony Leonard
Absolutely, thank you, Scott, for having me, I really appreciate it. It's great to be here. So as it said, my bio started out working with PhD students at UC Berkeley. What's not in my bio is that in between those two jobs, being a graduate advisor pH to PhD students, and then working with college undergraduates is that I attempted to start my own music artists management company, and I love music, I love working with artists, I thought that I could find a band and take them to the to the heights, new high, make them famous. And I went into it without really knowing what to do. And it totally failed and flopped on my face and had no idea what my product was, I didn't know how to sell it. I didn't know how to market it. I made a nice website, it was pretty, but didn't didn't have a lot of success there. So yeah, I got back into coaching, I played sports growing up, I've always been fascinated with human development and trying to help people manifest the best, the best version of themselves with care and integrity. And after four years working with college students, undergraduates, I decided to go out on my own and test the coaching methodology that I had created. Previously, I had a lot of autonomy. So I was in the lab just like, what worked, what didn't work as a coach. And I wanted to test it out with a different population and people mid career like career executives, higher level leaders. And, you know, that had some data that that I felt like supported that I could coach. So I brought it out. And the last three years have been as, as a professional coach working with a new population have been exciting and wonderful and hard and challenging and great. And I you know, I've gotten to the point really, where I've realized that the client serving the client is is is the bottom line and trying to find a price point that works for the client, and just showing up trying to get my ego out of the way and really being in service to the client.
Scott Ritzheimer
I love that. Hello. So you're in full time coaching now, you've been doing this for a few years, what would you say is some of the most important work that you're doing for your clients right now.
Tony Leonard
I love helping people through difficult transitions. They're successful. They've had success in their career, making good money typically. But for some reason, not happy not stoked, something's not not clicking. Sometimes that's real bad. And sometimes it's it's more subtle. And I love helping people work through the blocks and the challenges and, and understand get some clarity on why why it's been so difficult to to make a transition into something new. And so a lot of times it's because people have no idea what the next step is. I started a lot of calls with people saying I have no idea what I'm what I want to do next. I know what I'm doing is not working. And I and that's where I I feel you know Just like you're in the right place, this is this is, this is a little work I love doing.
Scott Ritzheimer
Yeah. So I'd love to unpack that a little bit. Because, you know, we're in some really interesting times in terms of, you know, how people choose to stay or leave different places. You know, there's lots of stats, lots of people leaving, then there's lots of stuff to lots of people not liking where they landed. And I think we're all in this process of kind of learning. What does that look like? You know, how do you know when it's time for the next stage in your career? How do you know when it's time to leave or to just, you know, step up. So tell me first, before we jump into what to do about it, tell me a little bit about how people know that their time doing what they're doing is up.
Tony Leonard
Give you a story, an example. I worked with a client who was working for a government agency as a UX researcher. And if he had like, seven different managers, one, like, you know, seven different people kind of telling him what to do. The politics, the internal politics were a total mess. The work and his role was really not clarified. And but he was he was prior to us working together, he's just trying to make it work. A lot of people are just like, this is the situation. I'm, I'm trying to make this situation work. And it took some time with us talking to him to realize, oh, this is bad. This is a blank show. This is this is real bad, it's time to start looking at do a new job search. And he had done one. And he thought that he had landed this role, and he was really excited about it. But it with some discussions, it was clear to him that it was not the right place to be. And then once he got like that first, like go out and make a phone call, do an informational interview, start the process of talking to people in your network. Think about your network, and how expensive it is. And and and he got excited again about and hopeful. And so I was able to make a great transition make more money in a less chaotic situation. So it was good.
Scott Ritzheimer
It's fantastic. So how about and maybe you've not bumped into this? Maybe you have but how do I how do you know if this is just like a bump in the road? Right? It's just a rough patch and a career versus this time for change? How do you help people really discern between those two?
Tony Leonard
That's, that's a great question. I come out the work thing right from the beginning, like I'm agnostic as whether you stay in the job, or whether you leave, or whether you pursue the most ambitious goal that you have in your mind. I worked with one client, product manager, or big company and working with her. She She was really stuck. Her manager sucked. She was also feeling like the work she was doing was interesting, but not aligned. And we worked together for a few months. And she just needed to make some shifts, and have some conversations and difficult conversations and make some allies internally and then start to leverage her value. And since a lot of people are leaving, she was like, Well, if I stay and I'm able to make some changes, and that's what she did is she ultimately stayed so I work with people who take off. And it's really like, as far as like how to get to know if it's right. It's just listening. Like I just listen, and I'm trying to understand what people's motivations are, what their challenges are, and help them ultimately make a decision like this is I'm gonna plant my flag, and I'm gonna go after this thing. And for her, it was like, I'm going to figure out how to make this work. And she ended up staying and getting a promotion. So it was worked out well.
Scott Ritzheimer
Awesome. So tell us a little bit about the process you use for helping people to really discover this. So what would you say if you were to kind of I know it's, you know, an intense coaching process. But if you were to kind of boil it down to some of the big steps that folks need to take as they're looking toward the next stage of their career, what would you encourage them to do?
Tony Leonard
First thing is if you feel stuck, get get help. Reach out to somebody like even if you're and that's a hard step. You know, we're really sculpted in this society to figure everything out on our own. And so often the most difficult step is just asking for help. And that could be asking a friend, that could be asking a co worker, and, you know, that could be working with a career coach. And so that's, that's the first step to help people make the change. And then it's kind of the work that I do, it really begins with listening, listening to people's, as I said, challenges and blocks, and then formulating a plan, based on what I'm hearing, and trying to build a solid foundation. And in order to do that a solid foundation to move on to the next thing, whatever that next thing is, I take a really holistic approach to coaching. So I'm talking about financial reality, what's going on emotionally? What's going on in relationships? What What kind of early career experience shaped where, where folks are at. And that gives me a whole picture of like, okay, like, this is what we're dealing with. And that there's, this allows me to have conversations, to give people ideas, exercises, and mode, help, motivate, support. And get people to where they want to go with with clarity. I'm really big on compassion and kindness. I think that so much of of success is resilience, like you get knocked down and gotta get up, get knocked down, you got to get up. And you kind of have to learn that. And then you kind of need somebody to support you with that.
Scott Ritzheimer
Yeah. So as question I've got for you. And that is, what would you say, is the biggest secret that you wish wasn't a secret at all, when it comes to folks and you having a career that they love and get paid while doing? What's that one thing that you wish everybody listening today knew?
Tony Leonard
Yeah, for me, it's if you want to embark on a difficult, challenging, somewhat risky endeavor, starting a business, trying to be in a high level position, having a creative idea, bringing it to the marketplace. You're, it's gonna take time, and you're gonna get knocked down. And I think staying with it. And for me, personally, this is this has been like, it's been tough, like, three years of, of, of coaching and figuring things out. And for me, it was huge to hire a business coach who I've worked with for the last year, and that was a game changer. So for all the coaches out there, I really recommend if you got the coaching, good, you know, and you're struggling with that business component, get help hire somebody, you know, make sure it's value align, and it's good person. But yeah, bottom line is, it takes a while, and you're gonna go through periods where you're like, nobody cares about me, I just did something stupid. And that doesn't mean you stop. If you keep going, I'm getting to the point where I'm beginning to feel the reward of those those hard work that hard work. But I wish I wish that had been made clear to me early on. And yeah, like, as you said, made clear to everyone.
Scott Ritzheimer
Yeah, it is, it's gonna take you three times as much energy, money time, you're just every possible variable emotion, as you think it's going to take. And then some and yeah, you're right, one of the hallmarks of those who make it through that early period is resilience. Because, you know, it doesn't matter what, you know, plan you use or you know, your tool or technique or whatever, you know, all of that, you know, it falls short, if you don't have the resilience to just get through the learning process of those early days. And it's, it can be tough, but it is so rewarding when you get to the other side of it. Fascinating. All right. So what I'm going to have you do for a moment, here is a great segue into this next point, which is, yeah, have you take off your coach hat for a moment, have you put on let's say, your CEO hat of of your own business and talk to us a little bit about what this next stage of growth looks like for you and what challenges you think you'll have to overcome to get there?
Tony Leonard
Yeah, I think finally figuring out how to get a flow of clients leads and that's really hard is a I'm feeling like I can coach, well, given the opportunity, but how do I get new clients, and I feel like that process is, is beginning to that flow is beginning. So the next steps feel really exciting because it's all about, you know, hopefully filling up my calendar with with clients beginning to really be picky about who I'm working with and say like, I want to work with folks who are interesting and creative and have big interesting problems. And that's, you know, getting to that level and serving those folks is, is what I'm doing now, and I wanted to do more of it, I think that's part of, you know, the continued process. And hopefully, the challenge eventually becomes, as I have too many clients for the time that I have, and then we'll get into some new ideas and, but that's my expectation is that to get there, and so I'm, I'm looking forward to that challenge. Every every level up, has a new book has new challenges and punches you in the belly in different ways. And, yeah, that is resilience, and it's, it's getting help support. And so those, those new challenges that I'm facing, are exciting, and I look forward to trying to figure them out.
Scott Ritzheimer
That's fantastic. It's true for coaches, it's true for a lot of kind of solo professional services, but you get into the business to do the thing that you want to do right to do coaching or whatever. And you find out that those especially the first few months, but, you know, to a lesser extent, the next few years, you spend a lot more time doing things other than coaching, you know, and you've got to be good at those things to earn the right to, to actually do the coaching and, and, and you're right around that three year mark, you know, most of the time for coaches, there's this kind of shift that begins to happen, where it's like, Hey, I just spent the whole day coaching, you know, like I wasn't doing, I wasn't doing budgets, I wasn't doing, you know, business development. I wasn't writing a blog, I was just coaching people. And it's a really special thing. It's why I love you know, on this show, having high demand coaches in who who have made it across that who get to spend most of their time doing it, and just hearing the lessons they've learned and the things that they share with their folks. It's just been an absolute treasure and a joy. So thank you for sharing. Thank you so much for being on the show. I appreciate it. It was just a fascinating person like you. And for all of you who are listening today, your time and attention mean the absolute world to us. So thanks for being here. I hope you got as much out of this conversation as I did, and I cannot wait to see you next time.
Contact Tony Leonard
After working for six years at UC Berkeley as a PhD student advisor, Tony left to work at a nonprofit as a college and career coach for first-generation undergraduates. He opened his own coaching practice in 2019 and has worked with clients from age 25 to 65. He helps marketing professionals, opera directors, small business owners, nonprofit Executive Directors, data scientists, finance professionals, UX researchers, musicians, website developers, engineers, gardeners, puppeteers, writers, and many others to leave bad jobs, land good jobs, and get paid.
Want to learn more about Tony's work as a career coach? Check out his website at https://www.tonyleonardcoaching.com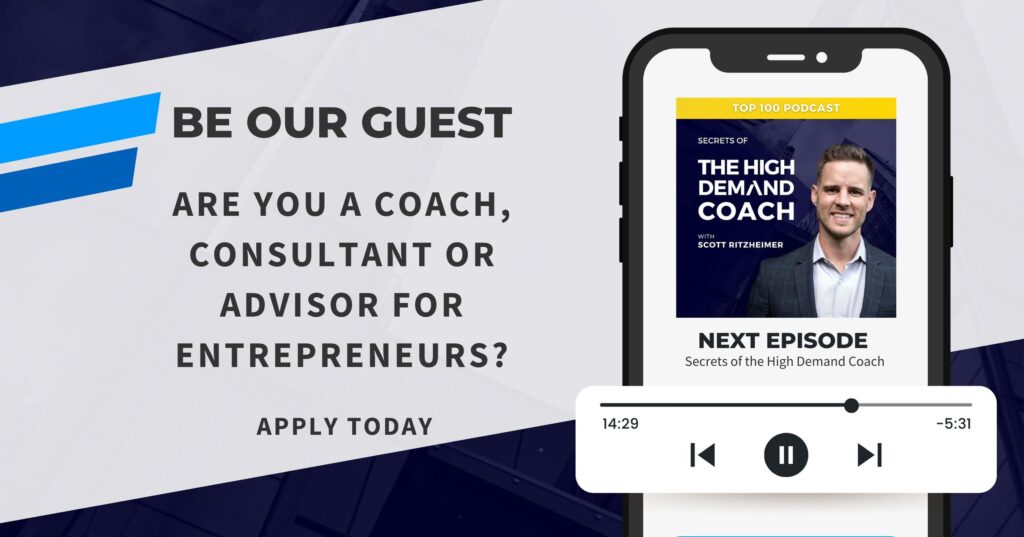 Podcast Booking Status: Open
We are looking for podcast guests, and we want to share your story.
Are you a coach, consultant, or advisor for entrepreneurial organizations? If so, let's do a great show together – and we can promote you to our audience on all our social media channels, website, and email list.

Guest requirements:
As a coach, you should be experiencing some very good momentum AND be grossing $100K or more annually. We'll be talking about how you help your clients achieve extraordinary results.
Consider yourself as equally people and results-oriented in your mission.
High-authority expert management and independent coaches who work with founder-led entrepreneurial organizations of 40 or more employees. We also encourage guests that are operations/strategy and culture consultants, advisors, and leadership coaches to be guests (no specialties in marketing, branding, sales, or IT, please
Please, no new coaches (under 3 years), published authors, non-independent coaches, or non-business coaches/consultants.