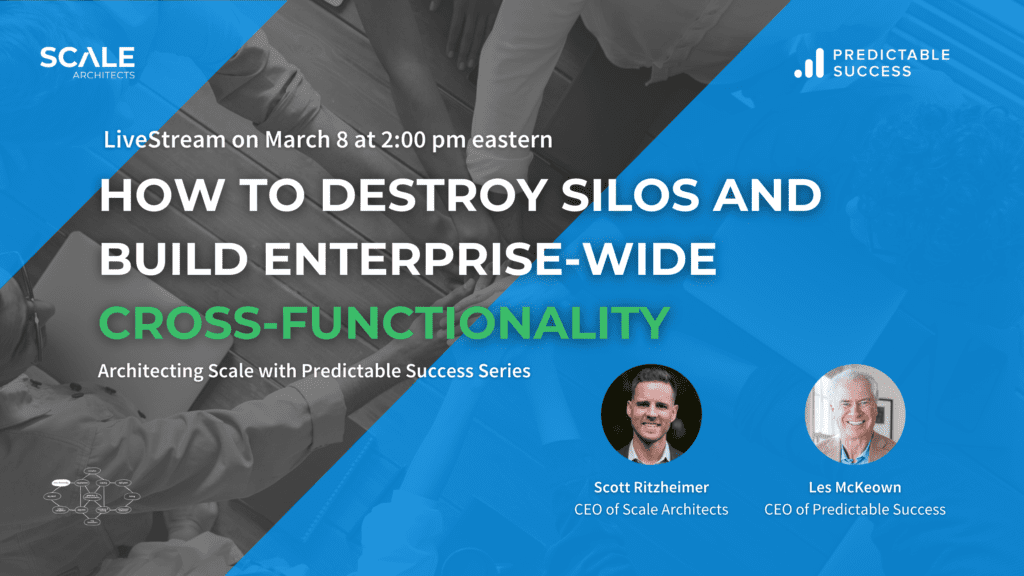 Event Recording
Free Resources
Keynote Deck
Download all the slides from the How to Destroy Silos and Build Enterprise-Wide Cross-Functionality LiveStream.
VOPS Balance Calculator
Use this simple tool to ensure every cross-functional team you assemble has the right VOPS Balance
Additional 4D Webinar
Learn How (and Why) to Turn Your
Team into a Decision-Making Machine!
Important Note: To access the 4D webinar, you'll need the access code we shared with you during the webinar. If you didn't write it down, that's ok. You can find it in the full-length recording above.
Event Description
Which is the better organizational structure, flat or tall?
We get asked this question all the time. But it's the wrong question.
Flat structures can excel. Tall structures can excel.
The better question, the one you truly need to solve, is this:
What separates scalable organizations from average organizations?
It isn't the number of layers. It is the ability of the organization to work across functions and between silos, at all levels, in an organic, natural manner.
We call this cross-functionality.
And if you have silos you can't wait to destroy, if you are tired of your leaders acting like lobbyists, or if you never want to hear another employee say, "That's not my job," then cross-functionality is the cure you've been looking for.
In this session of our series, Architecting Scale with Predictable Success, we'll show you How to Destroy Silos and Build Enterprise-Wide Cross-Functionality!
In this session, we will share five specific ways you can build the cross-functional teams you need to scale!
Here's a sneak peek at what you will learn
This LiveStream event will show you five ways to destroy silos and build the enterprise-wide cross-functionality you need to be agile at scale. And here's the best part, if you implement even just two or three of these strategies, you'll start to see remarkable changes in your ability to execute and move your entire organization toward your shared goals.
Here is a sneak peek at the five ways you can exponentially improve the capacity of your organization to execute effectively at scale.
The one way to guarantee clarity in cross-functionality with team mandates
The power of the Enterprise Commitment to tear down barriers and silos
Creating an environment for high-quality decisions by balancing the Leadership Styles on each team.
Consistently ensuring efficient and effective decision-making across all teams using the 4D Decision-Making Framework
Developing elite decision-makers with the nine essential skills for 21st-century leadership
Together, these five strategies will allow you to build an entire organization of high-caliber leaders who are ready to make high-quality decisions at a moment's notice. When you do, you'll find the almost magical ability to rapidly innovate and adapt no matter how big your organization gets! It's a visionary's dream come true.
Join us on March 8th for How to Destroy Silos and Build Enterprise-Wide Cross-Functionality.
How We Can Help!
Do-It-Yourself
You can architect scale yourself using our expansive suite of training courses and live events that are designed to help you reach Predictable Success!
Coaching & Consulting
You can bring in a knowledgeable Scale Architect we've personally trained to help coach you and your team into Predictable Success!
Train the Trainer
We can train one or more of your current leaders to become a Scale Architect within your organization to help you reach Predictable Success!