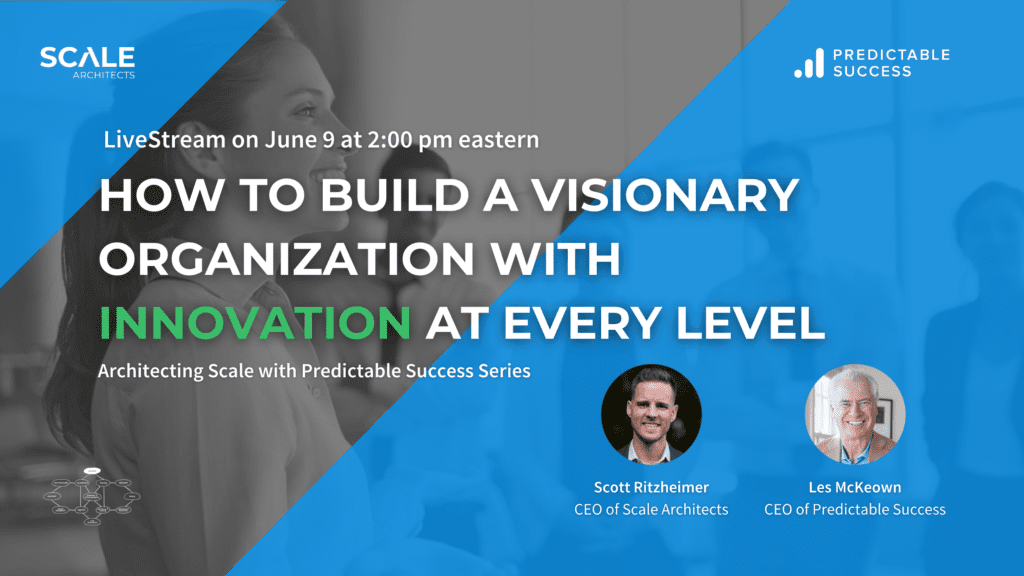 Who is responsible for the innovations that will drive the future growth of your organization. If your company's future is left in the hands of one heroic visionary or a distinct "innovation" department, your organization has already started its decline; you just don't know it yet. In this session we'll show you how to infuse innovation at every level in your organization to ensure lasting success!
Free Resources
Keynote
Deck
Download all the slides from the How to Build a Visionary Organization with Innovation at Every Level LiveStream
Strategic Planning
that Works
Learn our proven process for creating fresh new ideas that will flourish in implementation

Build Highly
Innovative Teams
This Team Mandate Worksheet will take you step-by-step through building highly innovative teams
How to Build a Visionary Organizations with Innovation at Every Level
Is your organization innovative? Or is it just you?
We've all heard the stories and seen the patterns play out again and again.
First, a nearly mythical leader (often the founder) creates a phenomenally innovative organization.
Then, following a meteoric rise, at some point, whether as a function of time or age or a demand for a more "mature" leader, they pass the baton on to the next generation of leaders. But when they do, a shift happens.
The organization becomes even more successful at first- better processes, efficiencies, and strategic planning drive profitability and predictability through the roof. And all is well.
But then, one day, we wake up and realize the organization is barely a shadow of its former self. Sure it may still be large and profitable, and highly regarded. But those inside the organization know it's lost its spark. And the organization begins its inevitable long, slow slide into irrelevancy.
This pattern is so typical that we've come to accept it and expect it, and there are many valid reasons why this happens. Myths abound regarding the unique powers of these Visionary leaders. And there is an over-abundance of strategies to counter (or at least slow) the slide.
But to be honest, while helpful, most fail to address the one fundamental issue.
These incredibly innovative leaders never actually built innovative organizations.
So when they leave (which we all must do eventually), they leave behind an organization that is known for and takes great confidence in their identity as a great innovator, that is little more than a museum trying to preserve the vision of their leader for as long as possible.
Ironically, the more you attempt to preserve the innovation of the past, the more you sacrifice the innovation of the future. And the direct result is the premature death and decline of once-great organizations.
How can you build a truly innovative organization that cannot only outlive you but also out-innovate you?
How do you cultivate the next generation of talent and leadership to carry your vision forward and build it bigger than even you could have imagined?
Does that sound too pie in the sky?
Well, it isn't. In fact, this is precisely what you must do to build an organization that can thrive and enjoy Predictable Success for decades and centuries instead of months and years after your departure.
And it's exactly what we will show you how to do in this session of Architecting Scale with Predictable Success.
What you will learn
There are five strategies for building an innovative organization. They are incredibly simple to understand, and with the right strategy, they are actually quite easy to do (no trust falls or meditation sessions needed). And the best part is, if you execute these five strategies consistently, you will find yourself the primary beneficiary of all that hard work.
Focus on institutionalizing innovation
Create a culture of innovation
How to allocate resources to implement new (potentially bad) ideas
Drive strategy that demands innovative action
Put it all together in a process that fosters failure
Join us on June 14 and learn how you can build a truly innovative organization.